NSYSU Students Makes A Mark At Hult Prize Impact Summit 2021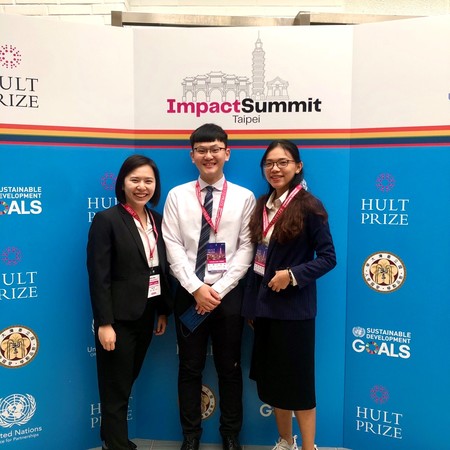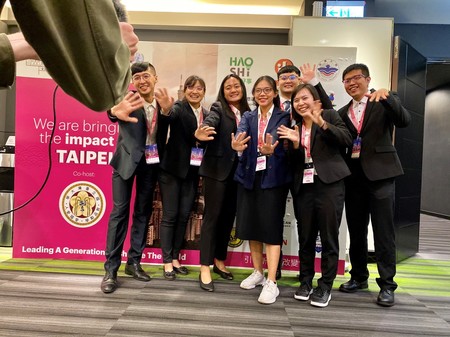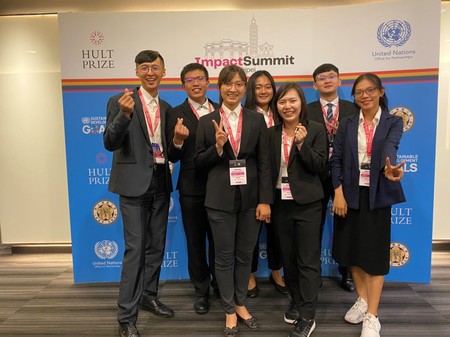 The Hult Prize Impact Summit held in Taipei on the 9th of April 2021 proved to be an unforgettable experience for NSYSU students Rosie (GHRM MBA), Sam Lin (ICAPS) and Jonna (MIS). This year, the summit was held on the theme 'Food for Good' with a vision of building viable enterprises that will impact millions of people in the next decade, strengthen communities, increase incomes, feed the hungry and generate employment.
Hult Prize is a global competition organized annually that seeks to solve urgent pressing global issues through viable business ideas. The competition operates on more than 3000 campuses worldwide and organizes over 100 Impact Summit campuses globally every year. Initially, Sam Lin – the team leader - joined the NSYSU campus level Hult Prize competition which was organized in NSYSU for the first time. Sam and his team's idea of launching an app that provides healthy meals in Taiwan was adjusted the third prize. Later, Sam Lin was looking for 2 more team members to develop his proposal and presented the idea at the Impact Summit. Rosie was glad to become a core team member and was responsible for the APP design and finance. When asked to join the team, Jonna was very enthusiastic and passionate about the project as she was a vegan and was conscious about healthy living. After coming together as a group, they worked hard on their project for more than a month before the competition.
Rosie commented that the Hult Prize changed her life and taught her valuable lessons that she could not gain from school. Through the competition, she learned to be a better team member, a better speaker and a better leader. She also got the opportunity to meet a lot of amazing people who inspired and encouraged her.
Rosie also complimented the professionalism of NSYSU Hult Prize organizers who are currently students from GHRM MBA and other departments of NSYSU. Moreover, according to Rosie, the other teams were not only outstanding but hard-working as well which inspired her. In the regional summit held in Taipei on 09th April 2021, Rosie and her team had the opportunity to join the pitches of various teams from different universities in Taiwan. She comments that their ideas were appealing, innovative, and practical and aims to make the world better in the theme of Food for Good.
After the competition, Jonna shared "Thanks Sam Lin for inviting me join this wonderful team and I think I will assign cram school for better future, thanks for your advice again, Rosie. Thank you too! Love your critical thinking and hope we can eat vegan food together."
It wasn't all about the prize, but our students gained valuable knowledge and soft skills from the competition, which will undoubtedly help them in their future forays. Congratulations to Rosie, Sam Lin, and Jonna for performing brilliantly at the 2021 Hult Prize regional summit. This is just the start ahead of a bright and promising future, and we are confident that you will continue to make us proud.