Guest Lecture by Professor Germain Thiombiano from International Master Program in Asia-Pacific Affairs (IMAPA)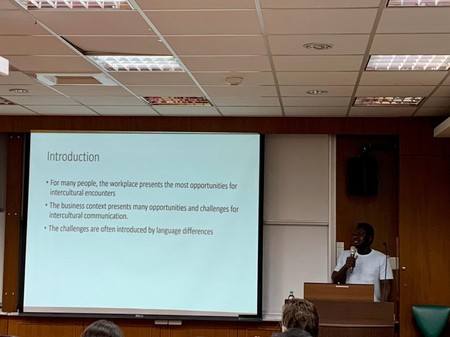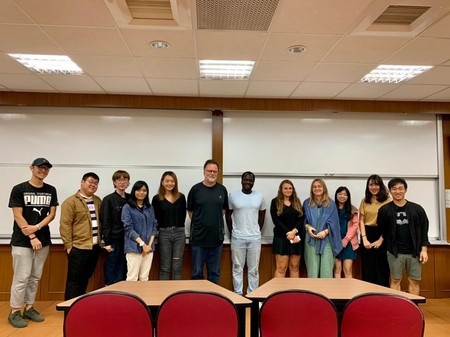 On November 23, 2020, the lecturer of Cross-Cultural Management from GHRM MBA program, Professor David Andersson, invited Professor Germain Thiombiano from International Master Program in Asia-Pacific Affairs (IMAPA) to talk about Intercultural Communication. Professor Germain from Burkina Faso in West Africa received his master's degree in International Business MBA Program (IBMBA) in 2010 and Ph.D. degree in Institute of China and Asia-Pacific Studies in 2019 from National Sun Yat-sen University.
In the beginning, Professor Germain mentioned that the workplace presents the most opportunities for intercultural encounters and language differences are the most challenging intercultural communication. Professor also gave an example of cultural difference. He mentioned that many of us have experience in dealing with cultural differences in a business context – from working in a restaurant with multicultural kitchen and serving staff, or perhaps in a business that exports or communicates with overseas clients and consumers. Intercultural communication issues also can arise in both domestic and international cultural settings.
In Professor Germain's talk, he compared domestic and global economy growth. He mentioned that the number of businesses owned by minorities has increased dramatically in the past 10 years and about a third of venture-backed companies that went public between 2006 and 2012 had at least one immigrant founder. As for global growth, intercultural communication occurs in many different types of business settings, including domestic contexts with multicultural workforces and international contexts.
Finally, we would like to thank Professor Germain Thiombiano for his insightful speech on behalf of the GHRM MBA program. It is our great hope that every student in this course will gain valuable knowledge from Professor Germain Thiombiano's lecture.