GHRM MBA Students Bagged Awards at the Si Wan College's Life Imitation Art Challenge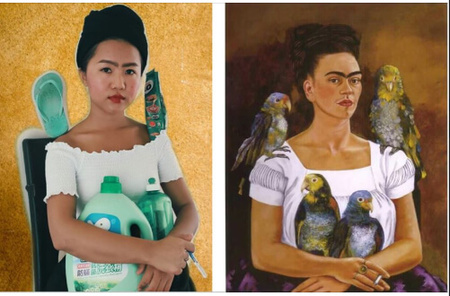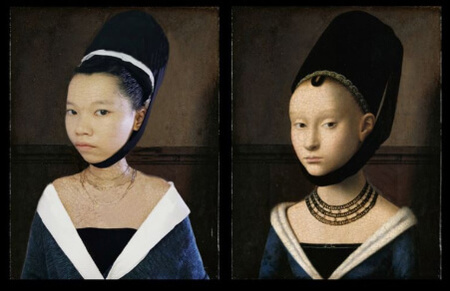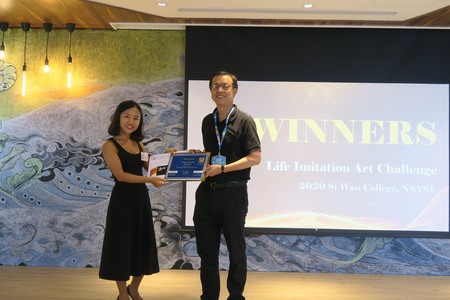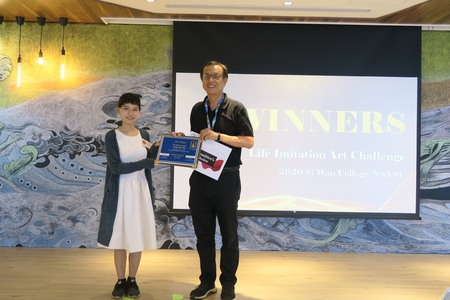 GHRM MBA students Hkawn San (Joy) from Myanmar and Lê Ngọc Bích Thủy (Sam) from Vietnam bagged awards at the recently concluded Si Wan College's Life Imitation Art Challenge. The competition aims to bring out the creativity of the students by cosplaying a classic work of art. Winners were chosen based on how close they imitate the art, and by their element of creativity!
Joy on Choosing and Doing her Art
Joy bagged the third place by imitating the classic art "Me and My Parrots", a self-portrait of the Mexican artist Frida Kahlo. Joy told us that she wanted to join the competition the moment she saw the poster, but she didn't have the motivation of doing it. Until her friend, Sam who's also one of the winners, convinced her to join the competition.
We asked Joy on how she put on her creativity hat and she told us that having fun is important in the process. She wanted to share this fun spirit by creating the art in a creative and fun way using limited resources. Joy used several materials at her dormitory to serve as the "parrots" for her art. After having some struggles on taking the picture, Joy was able to make the award-winning picture! Also worth mentioning, Sam also helped her in taking the photo and post-processing.
Sam on Choosing and Doing her Art
Sam bagged the Committee's Choice Award by imitating the small oil-on-oak panel painting "Portrait of a Young Girl", by the Early Netherlandish painter Petrus Christus. On choosing the art to imitate, Sam believes that she had enough resources to imitate the art and she also believes that she can imitate it as well in a fun way. If you're curious how she did the art, she first prepared the coat (what she is wearing), the tissue paper, and a rice cooker. Yup, she used a rice cooker to imitate the hair of the young woman in the portrait and used a cloth to support it. After the preparation, she took a selfie and also did the post-processing of the photo by herself!
Joy on Choosing NSYSU and GHRM MBA
She wanted to study in a Chinese-speaking country, since she already studied the language before. Joy wanted to enhance and improve her Chinese. Also, she was working in an international organization before as an HR professional. With that, she also wanted to enhance her professional knowledge in the HR field. Her seniors in Myanmar and the "friendliness to foreigners of Taiwanese people" also made her even more convinced in pursuing a higher degree in Taiwan.
Joy is also impressed on how responsive the coordinators of the program. As an inquisitive person, Joy wanted to make sure of all things before investing her time and effort in doing a master's degree in a foreign country. She mentioned that the coordinators respond to her inquiries very efficiently. "For every specific question that I ask, I always get the answers I need that satisfies my curiosity" This made her feel comfortable with the university before coming to Taiwan, since she felt a "supportive school community" already.
Having the reasons of wanting to study in a Chinese-speaking country and HRM and feeling the support system that she needs; Joy saw that the GHRM MBA Program of NSYSU is the "perfect fit" for all the criteria she set in pursuing a higher degree. She even told us that she did the right choice! With this opportunity of taking GHRM MBA in NSYSU, she was able to have more opportunities such as having a government scholarship, attending a business school in the Netherlands, and a lot more!
Sam on Choosing NSYSU and GHRM MBA
Sam had always wanted to go abroad to study because she feels exhausted at her job and wanted to do something new. She had five years working as a training coordinator and teaching assistant in a solutions company focusing on soft skills. Her experience in working with numerous companies and her trainer influenced her on having the interest of taking an HR course to study. Also, having the interest in learning how to train people well and how they behave made Sam decide to pursue a master's degree that focuses on HR and behavior.
According to Sam, she used Facebook as a tool to help her find the university that would fit her interest and searched the top universities in Taiwan offering an HR degree which is taught in English. The environment where the school is situated narrowed her choices even more. Fascinated with the sceneries and reputation NSYSU has, Sam decided to select NSYSU as her choice of pursuing a master's degree. Sam also found the process of applying for the program easy and simple, so she didn't find any difficulties prior to studying.
Having a lesser confidence in speaking in the English language made her quite passive in class recitations. But when she met a lot of friendly people in the campus and had the courage to join the dragon boat team, she was able to get through that difficulty. Sam also mentioned that the staff are very helpful in answering her inquiries. She is also happy about the professors that made her appreciate the program even more. She also told us that she would definitely recommend the "awesome" program to others!
Again, congratulations to Joy and Sam! Continue to be creative and uphold "fun" in everything that you do!